The following books will introduce you to the culture of Cambodia and issues of sexual exploitation, with threads of hope, redemption, and forgiveness weaved through these powerful stories. Learn from accounts of people who have lived through the torment and devastation of the Khmer Rouge regime or the dark and ruthless underworld of human trafficking. We hope these stories will help paint a clearer picture of Cambodian culture and the issues that Ratanak is dedicated to confronting.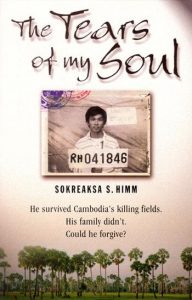 Tears of My Soul by Sokreaksa Himm
Subject Matter: Revolution, Genocide, Christianity and Forgiveness
Summary: In 1975, the Khmer Rhouge seized control of Cambodia. The years that followed were nightmare upon nightmare of fear, brainwashing, torture, and murder. Few who were educated or disliked by government officials survived. As the son of a teacher, Sokreaksa and his family were marked for death.
When his family were marched into the jungle to be killed, a grave had already been dug. Sokreaksa barely survived and, critically wounded, awoke covered by the bodies of his family. That morning, Sokreaksa climbed from the mass grave and began a quest for survival that brought him far more life than he ever expected. Could he possibly forgive his family's killers?
Why Read It? Tears of My Soul is a vivid insight into the remarkable process of healing and forgiveness. It is a powerful testament to how Christ brings redemption, even in the darkest of places.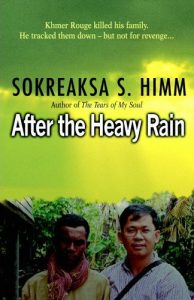 After the Heavy Rain by Sokreaksa Himm
Subject Matter: Forgiveness, Redemption, Grace, Psychology, Christianity, Missions.
Summary: In this sequel to "The Tears of My Soul" Sokreaksa S. Himm made his way to Canada after struggling free from the clutches of the Khmer Rouge. He found faith in Christ, but for years wrestled with bitterness, hatred and a desire for vengeance. In Reaksa's second book, he describes how he tracked down his family's killers one by one and forgave them, embraced them, gave them a scarf of friendship and presented each with a Bible. He has also built a clinic, a school and five churches in their village. This is an astonishing tale of the consequences of spiritual rebirth.
Why Read It? Many of us find the 'forgiving' part of Christianity very difficult. Yet in this book you will encounter the ultimate example of forgiveness in the context of the trauma of Cambodia's Killing Fields. A must-read that will challenge many of your conceptions about forgiveness and grace.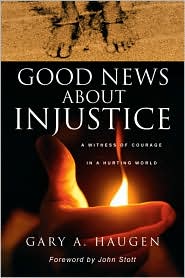 Good News About Injustice by Gary Haugen
Subject Matter: Injustice, human trafficking, modern-day slavery, and the Christian response.
Summary: Gary Haugen's challenging and encouraging book offers stories of courageous Christians who have stood up for justice in the face of human trafficking, forced prostitution, racial and religious persecution, and torture. Throughout, he provides concrete guidance on how ordinary Christians can rise up to seek justice throughout the world.
Why Read It? The issues of human trafficking are dark, disturbing and often overwhelming. This book answers the question of where God is in the midst of all this, and sets the challenge for Christians from all backgrounds to respond, intervene and speak up for the victims of this global industry. As the late John Stott writes in the foreword, however, if you do not want a challenge, don't read it!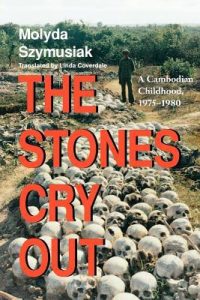 The Stones Cry Out by Molyda Szymusiak
Subject Matter: Revolution, genocide and a child's experience surviving the Killing Fields
Summary: In 1975, Molyda Szymusiak (her adoptive name), the daughter of a high Cambodian official, was twelve years old and leading a relatively peaceful life in Phnom Penh when Khmer Rouge radicals suddenly seized the capital and drove all its inhabitants into the countryside. Murderous brutality coupled with raging famine caused the deaths of more than two million people – nearly a third of the population. This powerful memoir documents the horror Cambodians experienced daily.
Why Read It? This compelling book will help you understand Cambodian culture and the experience of a child living under the brutal Khmer Rouge regime.  Uniquely, with courage and honesty, Szymusiak describes what she saw and does not delve beneath the surface into the emotion you might expect.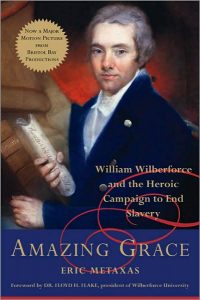 Amazing Grace – William Wilberforce & the Heroic Campaign to End Slavery by Eric Mataxas
Subject Matter: Slavery, Atlantic slave trade, faith, politics, inspiration
Summary: Amazing Grace tells the story of British abolitionist William Wilberforce (1759 –1833). At the center of this heroic life was a passionate twenty-year fight to abolish the British slave trade – a battle Wilberforce won in 1807. He then turned his efforts to abolish slavery in the British colonies – a victory achieved just three days before his death in 1833.
In this accessible biography, Metaxas chronicles Wilberforce's extraordinary role as a human rights activist, cultural reformer, and member of Parliament.
Why Read It? If you want to find out how one person can create positive change in the world, look no further than William Wilberforce. Before him, few questioned the morality of slavery. After his long battle for the cause, most societies in the world came to see it as a great moral wrong.